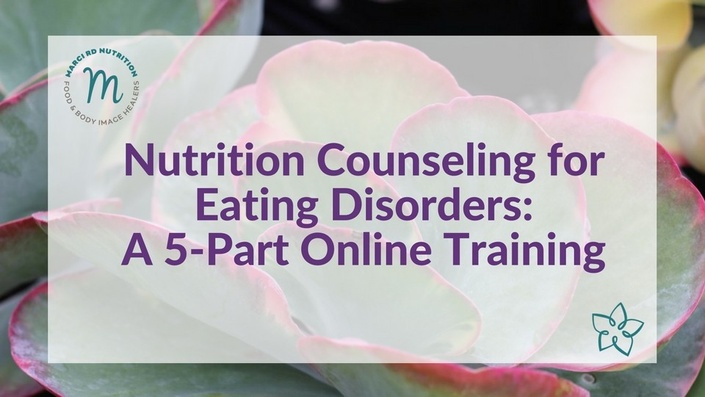 2.0 Version - Nutrition Counseling for Eating Disorders
A 5-Part Online Training with Marci Evans
Enroll in Course
Nutrition Counseling for Eating Disorders: A 5 Part Online Training with Marci Evans

Whether you are new to the field or looking to deepen your counseling skills, this online training will improve your clinical practice. Here is what you will get with this online training:
13 hours online video training
Detailed PowerPoint slides
Over 20 beautiful patient ready handouts
Master tips sheets, research articles, and recommended reading to enhance learning
13 CDR approved continuing education credits
Continued support via access to private Facebook group (optional)
Bonus marketing content to grow your private practice
Below you will find the details of what I cover in each module. Once you purchase the program, you will have immediate access to the course and all of the accompanying handouts.
Still have questions? Please direct them to [email protected].
Read what some of our participants have said about the training...
"Whether you are just beginning to work with people with eating disorders or have been working with the population for years, Marci's workshop is a must. Not only does Marci provide an in-depth look at eating disorders and the dietitian's role, but she provides actual tools that can be used immediately. One of the best available resources to dietitians for eating disorder education!"

LINDSAY STENOVEC MS, CEDRD
OWNER OF NUTRITION INSTINCT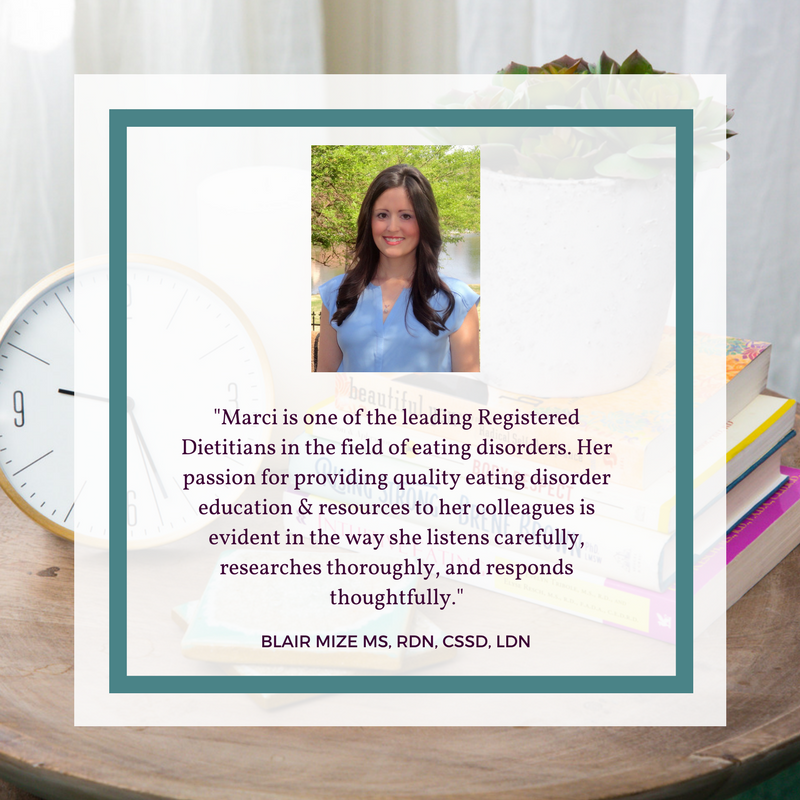 Online Eating Disorders Training, Version 2.0
By the end of Module 1,

Laying the Groundwork, you will:

1. Possess increased confidence in accurately diagnosing an ED

2. Feel clearer about your role and scope of practice on the ED treatment team

3. Be more able to have difficult conversations with your clients and your colleagues (while looking like a smarty pants!)

4. Feel more grounded in your knowledge of two strong paradigms (IE & HAES®) to guide you in your work

5. Have greater decision making power about doing this work
---
Lesson 1: Diagnosis
DSM & Diagnosis – Can A RDN Diagnose?
Common States, Traits, & Functions of an ED
The Biopsychosocial Disorder Model of ED Development
Medical & Psychological Co-morbidities
Lesson 2: Team Players
Role of the RDN at ALL Levels of Care (LOC)
RDN Scope of Practice
Key Members of the Treatment Team
Marci's Tree Analogy
Lesson 3: Ill Communication
How to establish lines of communication
Marketing Bonus!
When a client refuses to see a therapist
When a therapist won't call you back
Lesson 4: The Foundational Principles
A Primer on Intuitive Eating (IE) & ED Treatment
Health At Every Size® (HAES®)
Lesson 5: Getting Personal
Exploring YOUR relationship to food, exercise, & body image
Assessing FIT with ED work
By the end of Module 2,

Strengthen Your Psychology Muscles, you will:

1. Possess increased knowledge of common therapeutic language

2. Have greater understanding of how psychological processes occur in nutrition counseling

3. Be able to more effectively communicate how these processes are impacting your work to your clients and other treatment team members

4. Have a stronger working knowledge base of psychological modalities and how to integrate them appropriately into your counseling for greater behavior change impact

5. Have a more complete working knowledge of psychotropic medications and how it might impact your nutrition counseling
---
Lesson 1: Therapeutic Language
Effectively & Ethically Integrating Therapeutic Know-How
The 7 Most Important Psychological Concepts to Learn
7 Case Studies to Bring the Concepts to LIFE!
Lesson 2: Therapy Modalities of Behavior Change
Cognitive Behavioral Therapy (CBT)
Dialectical Behavioral Therapy (DBT)
Acceptance & Commitment Therapy (ACT)


What they are
How to use them in nutrition counseling
Case studies to bring the concepts to LIFE!
Lesson 3: Therapy Modalities Continued
Family Based Therapy (FBT or Maudsley)
Internal Family Systems (IFS)
Motivational Interviewing (MI)

What they are
How to use them in nutrition counseling
Case studies to bring the concepts to LIFE!
Lesson 4: A Word on Medications
Different classes of psychiatric medications
Impact on weight and appetite
By the end of Module 3,

Digging In & Doing the Work, you will:
Know the most important information to integrate into an ED assessment
Feel greater confidence in establishing shared goals with clients
Learn language and techniques to teach nutrition information without triggering the ED mind
Feel more comfortable with the basic steps to formulating a nutrition prescription
Be able to state the necessary components to designing effective food exposures
Know the current state of the research on food addiction and how it informs clinical practice
Develop skills to teach your clients how to learn hunger and fullness cues
Integrate new strategies for effective food journaling
Possess a foundational understanding of intuitive eating and ED care
Lesson 1: Early Stage Work
Clinical Assessment
Goal Setting & Assessing Outcomes
Foundational nutrition principles
Developing a nutrition prescription
Establishing frequency of visits
Lesson 2: Mid-Stage Work

Effective Food Exposures
A word on Food Addiction
The Art of Eating- Hunger & Fullness
Food Journaling…or Not
Lesson 3: Later Stage Work

Lesson 4: And we can't forget!
The Science of Refeeding Syndrome
Working with Digestive Woes
Does this all sound too good to be true? It isn't.
This training could transform your practice and the lives of your clients!
See what Jessi has to say about it below.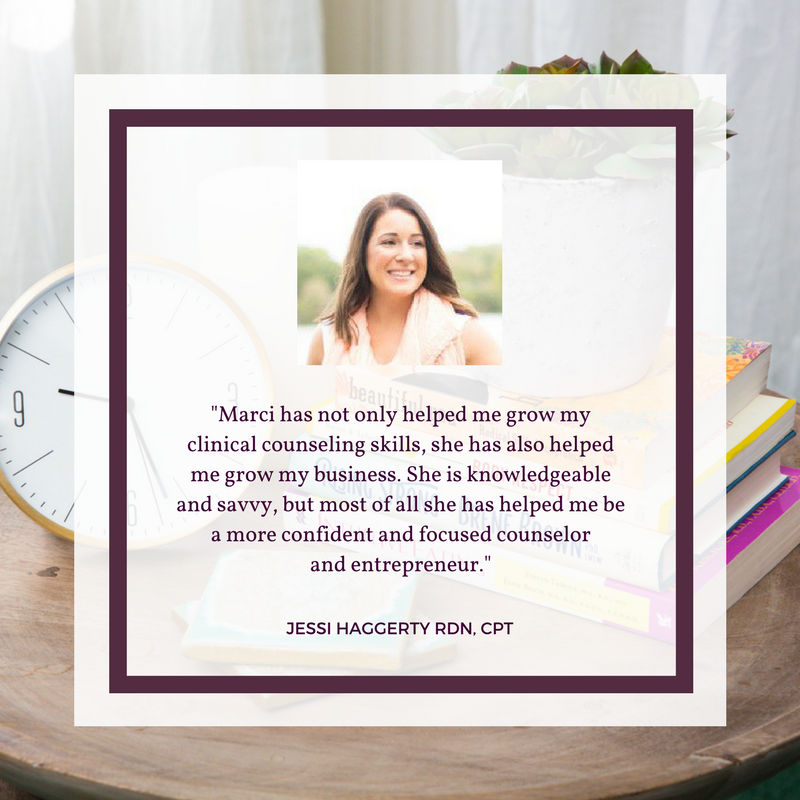 By the end of Module 4, The Sticky Stuff, you will:
Be able to list the critical components to consider when establishing a weight range goal for any client.
Develop a protocol for weighing (or not) your clients that is most in line with their path to recovery.
Feel more confident discussing your client's weight loss desires.
Understand the 3 core components of metabolism.
Be able to state the primary principles for metabolic healing.
Become more clear about the necessary considerations for developing exercise recommendations to clients.
Know the key elements of Intuitive Exercise.
Become familiar with Marci's Body Image Healing conceptual framework.
Lesson 1: Weight
Establishing Weight Range Goals
To Weigh or Not to Weight
When Your Client Wants to Lose Weight
A Word on BMI
Weight Stigma
Lesson 2: Metabolism

3 Basic Components of Metabolism
Metabolic Consequences of Eating Disorders
Metabolic Repair
Lesson 3: Exercise

Protocol for making recommendations
Making Peace with Exercise through Mindful or Intuitive Movement
Eating Disorders & Sport
Lesson 4: Body Image
Marci's Conceptual Framework for Body Image Healing
Top 10 Exercises to Experiment with Clients
By the end of Module 5, Complex Cases, you will:
Develop an understanding of how multiple diagnoses manifest within a single case presentation.
Become familiar with the basic components of a case presentation.
Be more clear about the importance of team communication and clinical supervision in managing complex cases.
Gain clarity in setting treatment priorities for yourself and the team.
Lesson 1: Pregnancy & ED
Lesson 2: Type 2 Diabetes & BED

Lesson 3: Gender Identity, Mental Health, & BN

Lesson 4: Athleticism, OCD, & AN
Your Instructor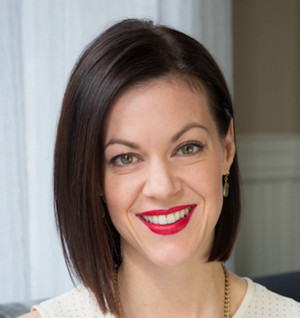 Marci is a Food and Body Image Healer®. She has dedicated her career to counseling, supervising, and teaching in the field of eating disorders.

She is a Certified Eating Disorder Registered Dietitian and Supervisor, certified Intuitive Eating Counselor and Certified ACSM personal trainer. In addition to her group private practice and three adjunct teaching positions, Marci launched an online eating disorders training for dietitians in 2015 and co-directs a specialized eating disorder internship at Simmons College.
Marci volunteers for a number of national eating disorder organizations including the iaedp certification committee and is serving as an eating disorder resource professional for The Academy of Nutrition and Dietetics. She has spoken locally and nationally at numerous conferences and media outlets.
She loves social media so tweet her @marciRD, follow her on Facebook and Instagram, and check out her blog at www.marciRD.com.
Frequently Asked Questions
How long do I have access to the course?
How does lifetime access sound? After enrolling, you have unlimited access to this course for as long as you like - across any and all devices you own.
How long do I have to complete the training to turn in for continuing education?
There's no rush! Your access doesn't ever expire so you can watch it when you want. You can also choose your completion date based on when you take the quiz so you can totally save it for later.
When does the course start and finish?
The course starts now and never ends! It is a completely self-paced online course - you decide when you start and when you finish.
Due to my busy schedule it can take me a while to complete them. Once the training is purchased will I always have access to the course materials?
Yes, you have unlimited access to the training - so all the videos and handouts from both versions will always be here in your Teachable Dashboard.
Do you offer discounts to Students and Dietetic Interns?
We don't offer student discounts because there is no expiration for taking the course and utilizing the CE credits.
Are refunds available?
With our courses and programs, you receive full access to materials immediately. As such, refunds are possible but may depend on circumstances and how much of the course material has been completed. Any refunds will be subject to a $50 administrative service fee.
Can I share my course login with others?
No. This course is provided for single users only when purchasing online. If you are a group looking to purchase for multiple users, please reach out to us and inquire about our group options.