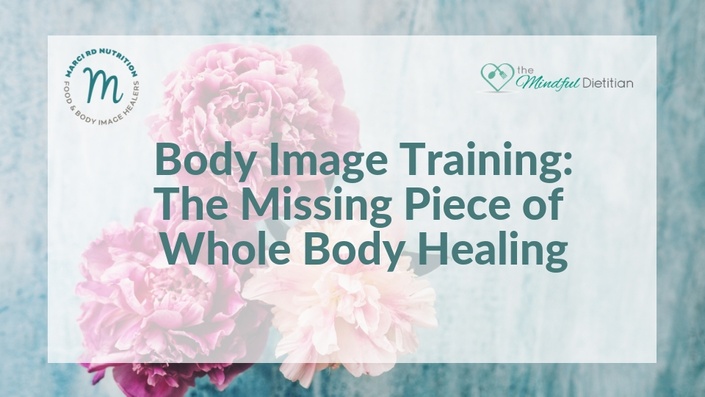 If you are looking to enhance your nutrition counseling skills and confidence when working with eating disorders, chronic dieting, and any condition which impacts how someone feels about their body, this is definitely the training you've been waiting for.
As clinicians, we know that dieting and constantly driving to change the body harms people, and keeps them stuck in the merry-go-round of body-hating hell. Even well-intentioned and highly trained clinicians can do harm if they're not sure what to do, and we too can be drawn into people's body distress and find ourselves backed into a corner. We also know that diet culture, Dr Google and the latest round of "wellness experts" can be noisy, and very seductive.
We know you care. We'll show you another way – a way that helps your clients, AND you – by building your reputation as someone who can support people struggling with their body image.

Get Answers to the Big Question of How to Help Your Clients Heal Negative Body Image
Do your clients struggle in their relationship with their body?
Do you struggle with your confidence supporting your clients to overcome their body image difficulties?
Would you like to and help more clients heal their negative body image and move towards a place of body peace?
Body Image Training for Clinicians: The Missing Piece of Whole Body Healing
As a participant in the Body Image training, you can expect to:
Become a Body Image Pro!

Develop a strong working knowledge based on the most up-to-date research related to body image: including assessments, definitions, neuroscience, and effective interventions.
Integrate the "Model for Body Image Healing" as a conceptual framework used to understand, process, and transform your client's body image experience.
Learn the language of negative body image and increase confidence in having conversations with people who experience a poor relationship with their body.
Learn how to navigate those tricky conversations about bodies while staying calm and centered yourself – we know it's not always easy!
Build confidence in staying on track, even if you feel under pressure to prescribe "yet another diet".
Increase understanding and confidence in the multitude of specific strategies for body image healing.
Connect with other like-minded colleagues as we navigate the care for those who are struggling with their body image
Body Image Clinician Training: Learning Objectives
By the end of Module 1, Establishing Our Ground, you will be able to:

Understand why body image work is critical to developing a health relationship to food, body, and self.
Feel clearer about your role and scope of practice.
State the definition of body image as expressed in the scientific literature.
Summarize two models of body image healing on a macro and micro level.
By the end of Module 2, Research, you will be able to:
Describe the current limitations within the field of body image research.
Cite the stages of body image development from childhood through adulthood.
Describe the current research on the cultivation of positive body image with practical application for counseling interventions.
Explain the intersection of neurobiology on body image and the implications for its integration into clinical practice.
Body Image Training Will Help You Help Your Clients
Body image dissatisfaction and distortion are key issues for many people regardless of gender, age, sexual orientation, race or background. This can even be true for those not suffering from an eating disorder. Today, few of us can enjoy true peace of mind when it comes to our bodies and appearance – giving rise to body shame, body loathing, low self-esteem, and a disconnection from our bodies.
Helping people overcome their negative body image is one of the most challenging aspects of a wellness professional's work.

Dietitians and health coaches hold a unique place in the minds of their clients when it comes to helping them feel better about their bodies. Yet, most of these wellness pros do not feel equipped to cope with body image issues – OR – that doing so is not within the scope of their practice.
It's time to FREE yourself of these outdated, limiting beliefs about your abilities and credentials!
Instead, it's time to discover that:
Body image healing is possible, and we can play an important role.
Healing poor body image is a critical piece of eating disorder recovery, relapse prevention, and addressing the transgenerational transmission of body hatred.
Helping your clients improve body image might be challenging at times, but it is incredibly rewarding.
By the end of Module 3, Developing Your Clinical Assessment, you will be able to:
Conduct a clinical assessment focused on body image development, cognitions, perceptions, emotions, and behavior.
Describe 3 different approaches to assessing body image.
Explain how to use the information gathered from a body image assessment to create short and long-term actionable steps to help heal negative body image.
By the end of Module 4, Language: Our Words Matter, you will be able to:

State the relationship between the terms body positive, body neutral, body acceptance, and body healing.
Think about body image as existing on a spectrum that runs parallel to internal states such as rejection, resignation, acceptance, and liberation.
Integrate non-pathologizing terms to describe and discuss body size.
Explain three key components of trauma sensitive language.
By the end of Module 5, Intersecting Constructs, you will be able to:
Understand the integral nature between HAES principles and healing negative body image.
Identify what body privilege means and how to navigate body differences in the room with clients.
List the four core components of feminist theory and how they inform body image work.
Describe the intersection between body image and beauty and how beauty may foster or hinder body image healing.
Eating disorders, dieting and disordered attitudes to food, eating and bodies are at an all-time high, and it's ruining lives worldwide. When you join us, you will learn how to help your wellness clients move away from the daily messages that their bodies need to be "fixed" or "worked on" for them to be happy.
Instead, you'll be able to offer a Positive and Consistent Message that can support your clients towards body healing!
It's time to Change the Paradigm of Whole Body Healing and Body Image Issues!
By the end of Module 6, Counseling Tools, you will be able to:
Describe the stages of change theory and cite at least one body image counseling strategy at each stage of change.
Define mindfulness and explain why it is a foundational skill for body image healing.
State the three supporting principles of self-compassion and describe how to appropriately use these principles to support body image work.
Conduct a values based assessment with your clients and explain one way to apply this assessment to body image counseling.
Define what somatics is and how it supports body trust.
List at least five appropriate body image interventions for eating disorder clients.
By the end of Module 7, Case Studies, you will be able to:

Describe at least six different strategies used to facilitate body image healing for six varying case study presentations.
Integrate assessment techniques, counseling strategies, research, and clinical wisdom to promote body image healing.
Who Are Your Body Image Experts?
Meet Your Hosts… Not just One, but TWO Body Image Experts!
Marci Evans and Fiona Sutherland have a combined 25 years experience in the eating disorders field. They are fun, they are smart, and they know their stuff! Check out their bios below..
Your Instructors
Marci is a Food and Body Image Healer®. She has dedicated her career to counseling, supervising, and teaching in the field of eating disorders.
She is a Certified Eating Disorder Registered Dietitian and Supervisor, certified Intuitive Eating Counselor and Certified ACSM personal trainer. In addition to her group private practice and three adjunct teaching positions, Marci launched an online eating disorders training for dietitians in 2015 and co-directs a specialized eating disorder internship at Simmons College.
Marci volunteers for a number of national eating disorder organizations including the iaedp certification committee and is serving as an eating disorder resource professional for The Academy of Nutrition and Dietetics. She has spoken locally and nationally at numerous conferences and media outlets.
She loves social media so tweet her @marciRD, follow her on Facebook and Instagram, and check out her blog at www.marciRD.com.
Fiona Sutherland,The Mindful Dietitian™, helps others to cultivate positive connections with food, eating, and their body. With a relaxed yet fully professional approach to her work, Fiona is a Registered Dietitian, specialist in eating disorders and Yoga Teacher from Melbourne, Australia.
She is Director of Body Positive Australia and The Mindful Dietitian, which aims to build a strong community of like-minded RDs from all over the world. She has 15 years' experience as an Eating Disorder, Mindfulness, Mindful Eating and Body Image specialist working with a wide variety of people.
"Yes!!! I need a bit of your passion in my life every so often, it keeps me inspired and on track." Joanna, Female Client
Fiona teaches into three different Masters Level Dietetic programs and is regularly to be seen on the Aussie media circuit speaking about how we can make peace with food, eating, and our bodies. She is a passionate yoga teacher, bringing many of the ideas from the mat into the consulting room.
Fiona is on the Executive Committee of The Australia New Zealand Academy of Eating Disorders, speaking at several conferences and events each year and was recently elected to the Board of the Association for Size Diversity and Health (ASDAH). She has developed many in-person and online programs, specifically Body Image, eating behaviour, mindfulness, and mindful eating.
She can be found playing around on Social Media via Instagram @themindfuldietitian and on Twitter@FionaBodyPos.
Why should I take this training?
Because we've heard it all.
The heartbreak. The devastation. The lives put on hold. We've literally dedicated decades to finding ways to help people move toward greater peace with their bodies. This body image training will equip you with the knowledge and skill set to do the same!
"We only hope you'll join us so we can share what we've learned."
And in the process, you will bring new skills – specialized skills – to your practice, helping you elevate your confidence and ability to support people to move towards healing.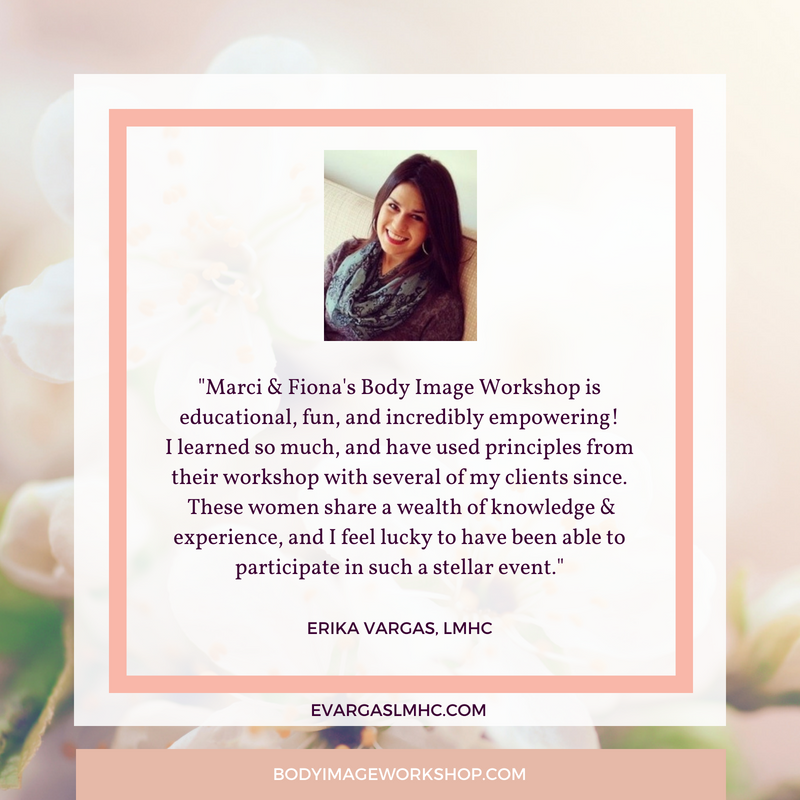 Still Not Sure if this Body Image Training is Right for You?
If you're still on the fence about joining us, there's just one question we want to ask you: Which professionals are doing Body Image Healing well?
The answer?
Not enough of us! But we know two things – there are lots of people hurting, and lots of people and industries doing the hurting. We want to help you join the increasing number of people dedicated to body healing. Get in front of the crowd and your competitors and stand out from the crowd in this specialty area in our industry!
There's no better time to jump in and join colleagues who are also passionate about supporting people, by becoming a Body Image Pro.
We believe with all our hearts that this training program is the best resource for clinicians who want to take their practice to the next level, and to help more clients while doing so. Imagine where you'll be this time next year after learning from the best and brightest in our industry… how many more clients you'll be helping.
This isn't wishful thinking… this is how to get to the next level as a dietitian, wellness coach or therapist.
You also qualify for 17 CEU credits for your professional develiopment.
Course Curriculum
Welcome
Available in days
days after you enroll
Module 1: Establishing Our Ground
Available in days
days after you enroll
Module 2: Research
Available in days
days after you enroll
Frequently Asked Questions
When does the course start and finish?
The course starts now and never ends! It is a completely self-paced online course - you decide when you start and when you finish.
How long do I have access to the course?
How does lifetime access sound? After enrolling, you have unlimited access to this course for as long as you like - across any and all devices you own.
How long do I have to complete the training to turn in for continuing education?
There's no rush! Your access doesn't ever expire so you can watch it when you want. You can also choose your completion date based on when you take the quiz so you can totally save it for later.
I don't work with eating disorders. Can I still take this course?
Absolutely, YES! Negative body image is the norm not the exception, and this work will apply to anyone working with humans. However, Marci and Fiona are eating disorder experts who will teach from the lens of whole body healing and recovery.
I'm not sure my knowledge level is right for this course. Should I join anyway?
Please don't worry. We all start somewhere! We're here to add to your knowledge level and skill set. We feel extremely confident that this training will be suitable for students, newbies, and experienced clinicians alike.
My own body image is pretty crappy. Should I still join?
Double yes! Doing your own work is the first key ingredient to helping others heal their negative body image. We definitely want you here with us!
How will this help me in my practice?
We take your potential investment in this course seriously and have poured the very best of all of our education, training, supervision, attendances at conferences etc into this course. We are committed to offering high quality training which not only boosts your knowledge, but more importantly your confidence and reputation to help more clients with body image issues.
I'm not a dietitian. Can I still do this training?
Absolutely. This training is designed for all professionals who work with clients on the topic of body image. We have had dietitians, therapists, nurses, health coaches, occupational therapists, students, and interns take our live workshops and online training. All are welcome!
Is this course in USD?
Yes, this course is charged in USD. We would suggest that you check with your local bank or online currency platform to find out how this converts to your local currency and whether this may attract bank fees when using a local currency credit card.
Do you offer discounts to Students and Dietetic Interns?
We don't offer student discounts because there is no expiration for taking the course and utilizing the CE credits.
Are refunds available?
With our courses and programs, you receive full access to materials immediately. As such, refunds are possible but may depend on circumstances and how much of the course material has been completed. Any refunds will be subject to a $50 administrative service fee.
Can I share my course login with others?
No. This course is provided for single users only when purchasing online. If you are a group looking to p[rchase for multiple users, please reach out to us and inquire about our group options.